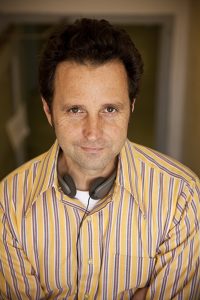 Los Angeles, CA – September 10, 2017 – Director Richard Gabai's feature film JUSTICE opens in theaters on September 15, 2017 and will concurrently debut on Digital and On Demand through Universal Pictures Home Entertainment. Chasing Butterflies Pictures, Splash House Pictures and Richard Gabai's company, Check Entertainment, are the production companies behind the project. Check Entertainment, located in Hollywood, was founded in 1988 by producer/director/actor Richard Gabai.  JUSTICE is the company's latest film following several successful, highly-rated, award-winning titles released in theaters, television and on digital outlets through major studios.
JUSTICE is a Period Western Action Drama that boasts a stellar cast including Stephen Lang (Avatar, Don't Breathe), Robert Carradine (Django Unchained, Revenge of the Nerds), Jamie-Lynn Sigler (The Sopranos, Entourage), Jackson Rathbone (Twilight), Nathan Parsons (True Blood), and Academy-Award® nominee Quinton Aaron (The Blind Side). Rounding out the star-studded cast is Ellen Hollman (SIX, Spartacus: War of the Damned), Lesley-Anne Down (The Bold and the Beautiful) and former UFC Champion, John Lewis (Check Point). JUSTICE is based on a story written by Shawn Justice and is produced by A.J. Perez, Niko Foster and John Lewis.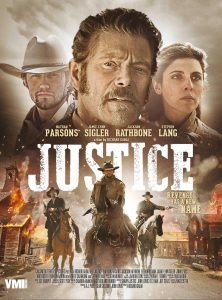 JUSTICE is set in 1870.  An abandoned mine is now being transformed into a military stronghold by a corrupt mayor (Stephen Lang) and his band of outlaws led by the bloodthirsty thug Reb (John Lewis) hell-bent on reigniting the Civil War. When a U.S. Marshal (Nathan Parsons) comes to town only to learn from the local teacher (Jamie-Lynn Sigler) that his brother, the town priest (Jackson Rathbone), has been murdered, his search for the killer leads to an inevitable clash that becomes a life or death struggle for a much greater cause.
Director Richard Gabai says: "As a fan of Classic Westerns from Howard Hawks and John Ford, I wanted to incorporate the elements we love about those films, but with a modern edge, and though our story is set in 1870, the themes are as relevant today as they were back then. Our brilliant and dedicated cast, crew, and stunt team were a joy to work with, the magnificent locations a dream to shoot."
Actor Stephen Lang, who plays Mayor Pierce, says: "I love a good Western, always have. The creative team who have brought JUSTICE to the screen; writers, producers, a fine director in Richard Gabai, and a sterling cast, have done true justice to the genre. I am honored to be a part of this film, and I hope and trust it will find favor among all who love a good "oater" as much as I do."
Producer A.J. Perez says: "The hardest part was getting the story right so it made for a lot of long days with our writers. The amazing work from our dynamic duo, Richard Gabai and Scott Peck (Director and DP), our incredibly talented cast and a dedicated production crew made my dreams come true and we made something really special."
Universal Pictures Home Entertainment will be distributing JUSTICE on Blu-ray™, DVD, Digital HD, and On Demand.
** Interviews with Richard Gabai are available upon request **
For more information please contact:
Wendy Shepherd | wendy@studiomatrix.com
Official Trailer: https://youtu.be/tBk9zS3aCAA
Official Film Website: http://justicemovie2017.com

Richard Gabai began his career with a series of cult, genre, and family films including the cult classics Assault of The Party Nerds and Virgin High, Quentin Tarantino favorite Vice Girls, the Genesis Award winning, The Bike Squad, and the groundbreaking Call of the Wild 3D. He continued his career with the films Insight, Imaginary Friend, In the Dark, The Good Mother, Non-Stop, The Wrong Woman, Escaping Amish, and Mommy I Didn't Do It for major studios including Sony, Columbia, HBO, Lifetime A&E Networks, Fox and Universal Pictures. A graduate of USC, Richard lives in Los Angeles with his wife and three children.
About Check Entertainment
Check Entertainment is a full service media production and distribution Company located in Hollywood founded in 1988 by actor/director/producer Richard Gabai.  Justice is the company's latest film following successful, highly-rated, award-winning titles released in theaters, television, and on digital outlets through major studios. The company's first production Assault of the Party Nerds was an international hit on TV and video earning ten times its production budget before going on to become a cult-classic. The follow up, Virgin High, was picked up by Columbia/Sony and HBO turning its 150k production budget into 2M worldwide. Subsequent film titles include Vice Girls, the Genesis Award Winning The Bike Squad, Call of the Wild 3D, Insight (starring Natalie Zea, Sean Patrick Flanery and Christopher Lloyd), Imaginary Friend (starring Ethan Embry, Lacey Chabert, Amanda Schul and Paul Sorvino), In the Dark (starring Elisabeth Rohm, Sam Page, and Shannon Elizabeth), The Good Mother (starring Helen Slater, Jean Louisa Kelly, Patrick Fabian and Beverly D' Angelo), Non-Stop (starring Lacey Chabert, Drew Seeley, Will Kemp, and Veronica Cartwright), The Wrong Woman (starring Danica McKellar, Jonathan Bennett, Dina Meyer and Jim O'Heir), Escaping Amish (starring A J Michalka, Alyson Stoner, Jean Luc Bilodeau, and Jesse McCartney), and  Mommy I Didn't Do It, starring Danica McKellar, Jonathan Bennett, and Jaleel White.
http://www.CheckEntertainment.net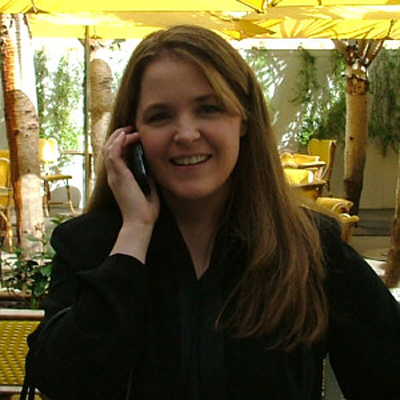 An entrepreneur who has developed dozens of successful websites over the last 23 years (since about 1997). Experience includes a background in digital graphics, website design, online publicity, social media management, marketing, online publishing and more. Wendy works with well-known entertainment talent and films, runs a number of high-profile marketing campaigns and has been titled as an associate producer on a couple of film production projects.